It happens to all of us. You're driving down the road when you see debris fly up from the vehicle in front of you. As it smacks into your windshield, it makes a noise so loud that you're surprised the whole windshield didn't burst! And then you see it – the chip!
Windshield chips can happen at any time but they don't have to cost you and arm and a leg. They don't have to be a headache either! Windshield chip repair is a very simple and easy process that doesn't put a dent in your wallet. Chip repairs are much cheaper than having your windshield replaced, and often times can prevent the need for a windshield replacement. If you're unsure if a chip on your windshield can be repaired, just give our experts a call and they will be happy to answer any questions for you. Judging by the size and shape, they will be able to tell you if your windshield is a candidate for repair or if they recommend a replacement.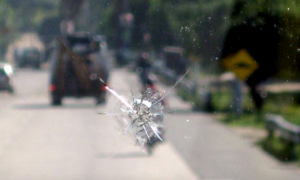 Here at Harrs Auto Glass, we make the windshield repair process as simple and easy as possible. We work around your busy schedule so that you don't have to miss a beat of your regular routine, while still getting the windshield repair you need. We can even come to a location of your choosing! Whether it's your home, your job, or anywhere else, we can have a technician come to the location of your vehicle and have that chip fixed in no time.
Take a look at our testimonials page to see what our customers are saying about us! Thanks for choosing Harrs Auto Glass for your glass repair and replacement needs! We look forward to doing business with you. Get an online quote or call us today!